Eliel Saarinen, Director of the Cranbrook Academy of Art in 1937, examined young Harry Bertoia's portfolio of jewelry and signed him on for a full scholarship on the spot with the agreement that he would eventually teach metalsmithing.
While he later taught the traditional lost wax method of casting, he specialized in forging, chasing, and combining materials to produce unusual modernist pieces. While explaining the process to his pupils, often just 4 or 5 of them, he physically demonstrated the techniques and sometimes gave the result to one of the students. 
Bertoia created organically shaped brooches, bracelets, rings, necklaces, earrings and pendants out of whatever metal he could afford. Gold (his favorite), silver, plastic, aluminum, copper, ebony, and even cotton thread made their way into the biomorphic shapes. The high society ladies of Bloomfield Hills showed off their abstract Bertoia brooches and oversized pendants whenever an event allowed for such finery. He sold some at nearby craft fairs and occasionally was commissioned for a specific object.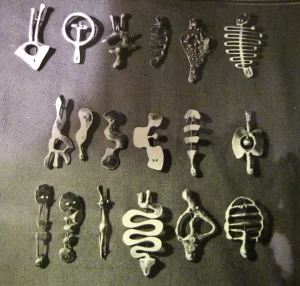 Bertoia fashioned his own square wedding ring as well as Ray Eames' wedding band and school rings for Kingswood High School 1942 graduating class. The early Cranbrook jewelry is highly coveted, and the jewelry that Bertoia created in California in the late 1940s is also charming and finely finished. While the bulk of Bertoia's modern jewelry was produced at Cranbrook between 1937 and 1943, some early more traditional pieces were crafted between 1934 and 1936. In California, modernist handcrafted jewelry of silver, bronze, brass and gold came alive on his workbench between 1944 and 1950. His jewelry was displayed alongside Alexander Calder's jewelry at the Museum of Modern Art and the Walker Art Center. Once Bertoia began the chair design work in 1950, the jewelry creations fell off dramatically. A special birthday or anniversary might spur him to make a rare piece for Brigitta. 
Starting in 1977, Bertoia made a new line of jewelry focused on gong-shaped pendants, dramatic bracelets and hanging brooches. His Norwegian gallery friend Kaare Berntsen hoped to produce a line of limited edition items with the 1970s line, but Bertoia died before the project materialized. The Harry Bertoia Foundation now offers a special selection of limited-edition reproduction jewelry at our shop. Originals are sometimes available at galleries or auctions.