by Celia Bertoia, April 2018
Photo from Wright Auction, wright20.com
The Bertoia sprays are beautiful flowing sculptures that shimmer and sparkle, but several issues have arisen in recent years for a number of reasons. Each topic will be addressed singly and suggested solutions proffered.
First of all, there is a need to clarify the illusions around Knoll International and sprays. The term "Bertoia spray for Knoll" is rather misleading and has led to confusion. During Harry's life, he maintained friendly and working relationships with Knoll dealers, Florence Knoll Bassett, and Knoll executives. While Harry was an official employee of Knoll for just two years during the Bertoia chair design process, 1950 – 1952, he consulted with them on later design issues and occasionally participated in Knoll exhibitions throughout the world. In addition, numerous Knoll dealers throughout the United States dealt with Harry to keep a small stock of his sculptures in their showrooms.
Some of the Knoll dealers with whom Harry was especially close enjoyed having a few Bertoia sculptures alongside the Bertoia chairs. They often would sell the sculptures, including sprays, for more than Harry had asked, explaining, "Harry, you don't ask enough for your sculptures. You named the price at $300 but we sold it for $400. Enclosed is the check." The customer was instructed to write the check directly to Harry Bertoia and the Knoll dealers took no cut at all. Having the sculptures present brought more customers into the showrooms, and the dealers loved both Harry and his sculptures. It was a win-win situation. These dealers often requested more sculptures when they had sold out. "Harry, we need a few sprays and how about a tonal?" They also referred to the wire spreads as plumes. The sprays were also sold through various galleries and, at times, directly from Harry.
These sprays were each unique. Height, metal, tips, number of wires, bases and form all varied widely. Copper, stainless steel, bronze and even nickel alloys were used. Some had small buds at the tips. Others had two branches instead of a singular spray. Some had steel bases, while others were slate or bronze. Chrome was not used. There is no typical Bertoia spray. This information comes from our archival inventory files at the Harry Bertoia Foundation. There were Bertoia sprays available at Knoll dealers from time to time, but no specific spray for Knoll. Harry did not make series or editions of anything (with one exception of a tonal shortly before he passed). Numerous letters between Harry and Knoll dealers such as Bobby Cadwallader, Butch Seal, Johnny Helm, Jim Norton, Gary Beals and Carlos Ferrer clearly demonstrate the relationship of Harry, Knoll and the sprays. There was no "Knoll spray" by Bertoia.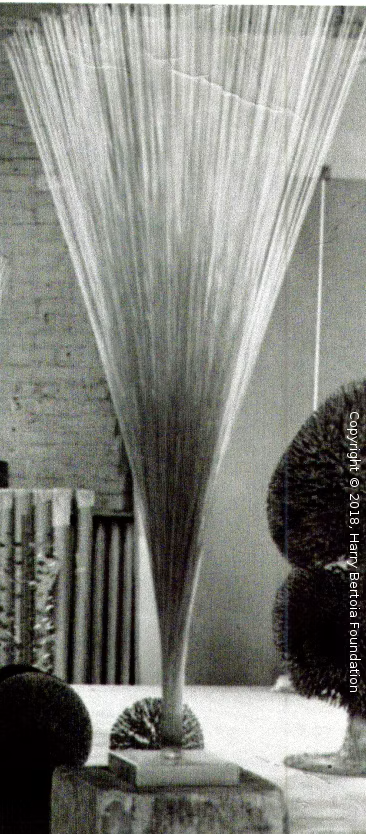 Secondly, the sprays were simple to construct and easy to copy. Even during Harry's life, beginning in 1966, Tom McAllister of California made blatant spray copies. Decades later, David Grossman made sprays with a round base (and some square bases) that could be shipped in a mail tube. See photos below. Numerous others made sprays of varying quality and description. Val Bertoia (son of Harry) makes sprays, usually marked with a label such as B-123. Enter "spray sculpture" into EBay and dozens of samples pop up. There are lots of spray copies. While this is flattering for Bertoia in its indication that people love the sprays enough to copy them, it creates challenges in verifying authenticity. The Harry Bertoia Foundation no longer authenticates sprays unless there is spotless documentation.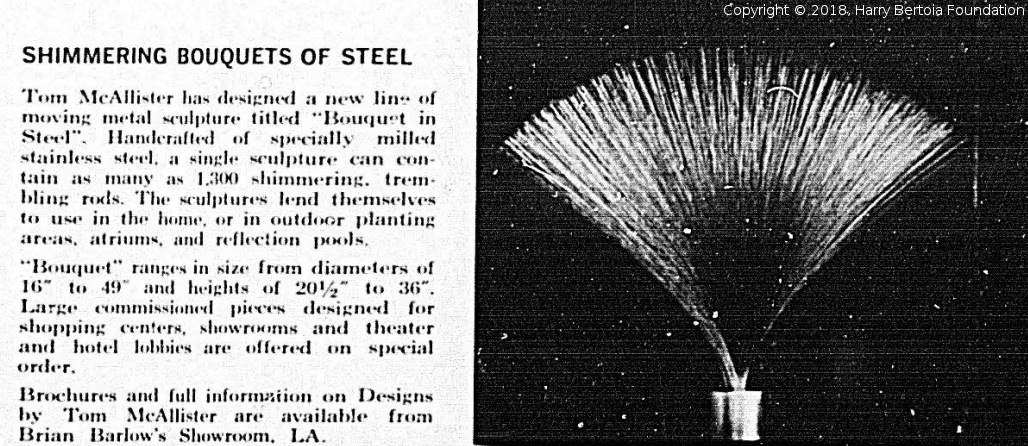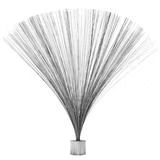 As an aside, as Richard Wright of Wright 20th Century in Chicago commented (Blouin Art Info, February 28, 2015), "when compared with Bertoia's other works, the sprays are just not as interesting." While most of the Bertoia sculptures are steadily increasing in value, the spray prices have declined because of the above problems.
What is the solution to the issue of Bertoia sprays? Just as the most important characteristics of real estate are "location, location, location," the three most important items for a spray (or most art in general) are "provenance, provenance, provenance." If verified documents exhibiting the original purchase of a spray or other evidential letters are available, there is a chance at authentication. Occasionally there is something so unusual about a spray that comparison to archival sketches or photos can be used for verification. If your grandma says she got the spray directly from Harry at his shop, let's hope she wrote a letter with all details and dated and signed it and even that may not guarantee validity. If the owner acquired the spray at an estate sale, unknown gallery, tiny auction house or EBay chances are slim to none that it is a real Bertoia.
I hope this elucidates the issues with sprays.