We are extremely excited to introduce the Harry Bertoia Catalogue Raisonné. If you have not yet had a chance to check it out, please do – it's free and fascinating. https://catalogue.harrybertoia.org/
May I give you a brief tutorial on how best to take advantage of the CR? Instructions and background are all listed in the CR itself under about (see: https://catalogue.harrybertoia.org/section/?id=Using%20the%20Website), and, even though we've tried to make it all user-friendly, it can be a bit overwhelming. Let's go over a few common scenarios.
I want to see if my Bertoia is listed in the CR. Once you have registered, you can get in the CR again anytime. Go to Artwork, in the menu at the top. Then figure out which category you need: Design includes prototype chairs, tea sets, jewelry and such. Sonambient covers all sounding sculptures including gongs, singing bars, and tonals. Two-dimensional, as expected, has paintings, monotypes, and some drawings. All other objects are under sculpture. While you surely love and cherish your Bertoia sculpture, you may not know what category we have placed it in. You can always go poking around but that could take longer than you like. See Types below.
I want to see if a particular museum has or had Bertoias. Once you have registered, you can get in the CR again anytime. Go to Collections. If you have specific information such as the name of the museum, if it is a public collection, or if it's in a foreign country, simply check the appropriate boxes on the left. The institutions are listed alphabetically by default. You can sort by country or city as well. Once you find your museum, all objects in their collection (that we are aware of) will be listed with photos and data. Always make sure to call ahead if you plan to visit as they may not have their Bertoias on display.
How much did a sculpture sell for a decade ago? Once you have registered, you can get in the CR again anytime. We do not have sale prices listed. But once you find your sculpture (see first scenario), it will have provenance listed, including any sales, if known. You can then go to the selling entity website. If it is a major auction house, they usually have a search function to find sale prices.
How can I find all the Spill cast sculptures (or sprays, or tonals or whatever)? Once you have registered, you can get in the CR again anytime. Go to Artwork. See the types below to find your desired type. Check your type and peruse as desired. Note that this is a "living" document, so there may be many more undiscovered sculptures that we are currently unaware of. See types below.
I want to see all tonals with cattail tops. Do as instructed above, finding Sonambient, then look for Tonal. Under tonal, you can choose Cattail. Select it and you'll get all the cattail topped tonals. If you have further data, you can select the date by decade, or other characteristics such as multigroup or angled.
How many dandelions did Harry Bertoia make? Once you have registered, you can get in the CR again anytime. Go to Artwork, in the top menu. Then select wire form on the left. Under wire form, you can select dandelion. You will see the number of dandelions that are currently entered into the CR to date. Keep in mind that currently there are about 3000 objects entered into the CR, and we estimate that Bertoia made upwards of 15,000 items! There are probably hundreds more dandelions on which we do not yet have data. But at least it will suggest that the artist made fewer dandelions than, for example, welded forms.
What kind of books are available on Bertoia? Once you have registered, you can get in the CR again anytime. Go to Literature. Select the type of publication you are looking for (book, catalog, essay, article, etcetera) and peruse to your heart's content.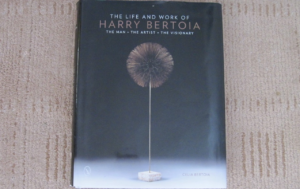 FOUR MAIN CATEGORIES of ARTWORK
Design: Prototype chairs, tea sets, jewelry and functional objects
Sculpture: The largest group of Bertoia's creations including bushes, dandelions, fountain commissions, wire screens, directly forged bronzes, multiplanes and more. See Types below.
Sonambient: Tonals, singing bars, gongs, objects made for the sounding qualities.
Two-Dimensional: Paintings, monotypes, wood-cuts
TYPES of SCULPTURE (know that there are many sub-categories under each type)
Bundled wire: sprays, willows, any sculpture with hundreds (if not thousands) of thin wires gathered together in some form either at one end or both, most often made of stainless steel but not always. Sample below.

Direct Forging: Blunt thick objects, mostly on the smaller side, created by heating and shaping the metal. Sample: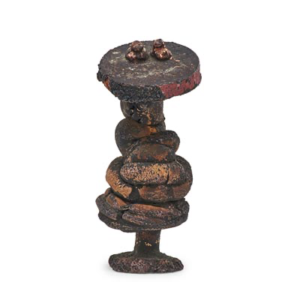 Multiplane: Small panels of metal, often melt coated with brass, creating a geometric form. Sample: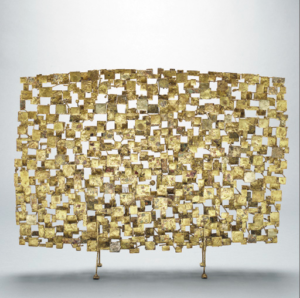 Nail forms: Commercially manufactured square top nails form some part of the object and when viewed, are a prominent factor. Example:
Welded form: Sculptures in which the basic technique of welding is a defining characteristic, predominantly made in bronze and most abundant of Bertoia's sculptures. Example: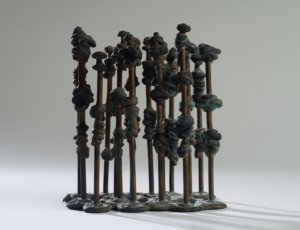 Wire construction: Thin wire welded together to create shapes of all sorts, including dandelions, some screens, and many abstract forms.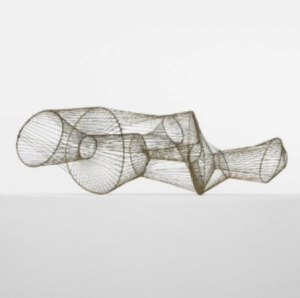 As in any website, the more time you spend playing around, the quicker you will learn where everything is. The glossary, under "About" is very helpful in explaining Bertoia vocabulary. If you are still not finding what you desire, send a note to catalogue@harrybertoia.org. Have fun and visit often!
If this article has helped or entertained you, please consider donating!