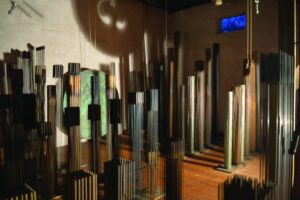 HAPPY HOLIDAYS from the HARRY BERTOIA FOUNDATION!
We, at the Harry Bertoia Foundation, wish you and yours a wonderful holiday season. We will be closed from December 23 – January 3, 2023.
Stop in and visit anytime other than those two weeks; bring the whole family!
We WILL be OPEN for the ARTS to ZION GALLERY TOUR January 12-14th. 
Speak to the artist's daughter, enjoy a Sonambient concert, dive into the petting zoo of sounding sculptures and sit in a famous Diamond chair!
1449 N 1400 W, Suite 11 (around the backside), St George, a few blocks west of Snow Canyon Parkway and Bluff. 435 673-2355, info@harrybertoia.org, see you soon!
Support the foundation:
THANK YOU!
Other exciting news:
The Harry Bertoia Catalogue Raisonné Project
The Harry Bertoia Catalogue Raisonné project gives you a chance to be part of something larger and long lasting. Your gift helps fund the research and data entry of the catalogue, which, when complete, will be a digital resource for collectors, galleries, museums, scholars, and visionaries featuring as many as 15,000 items created by Harry Bertoia. There will be a temporary pause in reviewing submissions starting mid September to allow for preparation to go live. The existence of this comprehensive and authorized catalogue will imbue a sense of confidence and permanence in Bertoia's works for owners, having a positive effect not only on scholarship but perhaps on the artist's market as well. We expect public access to begin in March 2023.
In order to keep the catalogue accurate and relevant it is curated and updated by our project Director, Dr. Marin R. Sullivan. Dr. Sullivan commented, "Harry Bertoia was a tremendously innovative and prolific artist. The Harry Bertoia Catalogue Raisonné project seeks not only to document and research the full, rich breadth of his extensive output, but also to serve as the definitive resource for anyone wishing to learn more about one of the most unique and significant modern creative practitioners of the mid-twentieth century."