In the 1950s when most chairs were made of rigid wood, the Harry Bertoia furniture line – with welded wire and lots of curves – were totally innovative.
Knoll International produced the first Bertoia chairs in 1952 and has kept the iconic collection in continuous production under the merged Miller-Knoll brand. The Bertoia Bench was introduced in 1951. The Diamond Chair was first displayed in 1952 and actually in production by 1953. The side chair, bird chair, bar stool and wide diamond were all released in the early 1950s. The Children's chair came in 1955. The gold-plated Diamond chair came out in honor of Bertoia's centennial in 2015. The Asymmetric Chaise, although designed and prototyped in 1952, was not brought to mass production until 2005. For tips on recognizing authentic Knoll chairs, click here.
Bertoia was exposed to chairs at Cranbrook when Eero Saarinen and Charles Eames entered their modernist chair which won the Organic Furniture Design Competition sponsored by the Museum of Modern Art. Bertoia developed his initial chair design ideas while working with Charles Eames and others in California in the late 1940s. Bertoia was extremely instrumental in achieving the flexible plywood seat with tubular frame that eventually became the Eames LCW – lounge chair wood. It was known only as the Eames chair and there was no mention of Bertoia or the other members of the team.
Bertoia, frustrated by the lack of recognition, left Eames and was summoned to join the Point Loma Naval Electronics Laboratory. Part of his work at the lab was to scrutinize the human body and chart how to design equipment such as control panels and knobs with respect to comfort of the human reach and grip. He found this study of body dynamics (today we call it ergonomics) fascinating and it contributed to knowledge used later in designing well-fitting practical chairs.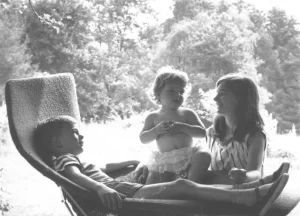 When former Cranbrook classmate Florence Schust Knoll invited Bertoia to work with her and her husband Hans Knoll in Pennsylvania, Bertoia was tempted but indecisive. Luckily, Brigitta, his impulsive wife, answered a resounding "yes" for him and thus changed their lives forever. They moved to Pennsylvania and set up shop under the auspices of Knoll. Bertoia was promised and received credit for all designs he created with Knoll.
Metal was the material of choice, and Bertoia played with it until arising at the wire grid concept that could be shaped at will. He not only created the airy design of the chairs, but also devised the initial production jigs. Knoll paid him for his time plus a handsome lump sum, leaving the chair rights permanently with Knoll. This large payment allowed Bertoia to initiate the purchase of the Pennsylvania farmhouse in which he stayed until his death in 1978.
Furniture is available at https://www.knoll.com/shop/classics/harry-bertoia-collection