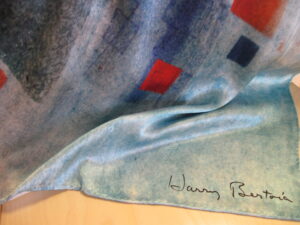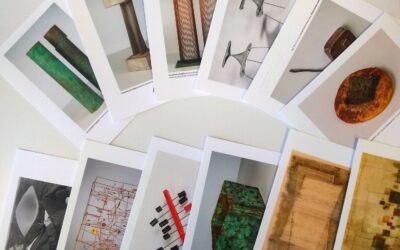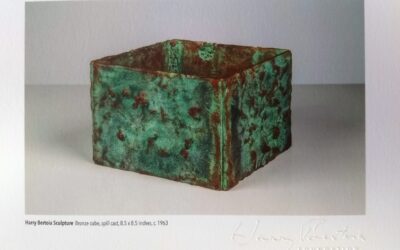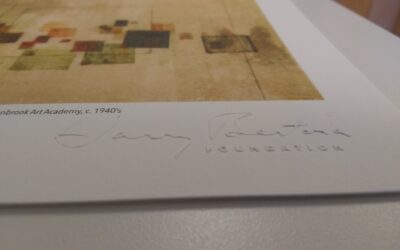 Art Card with Metallic Envelope – single $7 — 5 cards $30 — full set of 12 $60
Embossed one-sided cards
Single-sided cards for the art-minded shopper, done on heavyweight textured paper with embossing. 5 x 7 inches is fit for framing, refrigerator posting, or sending to that special someone. Comes with colored metallic envelope that lets people know it's important. Bertoia photos of items you won't find online.
An exclusive gift for yourself or your favorite art aficionado, there are twelve very unusual Bertoia photographs from the foundation collection. It is a postcard with a blank reverse side, so you can use it as a postcard or send it in the envelope. Appropriate for any occasion. Limited quantity available.
Shipping included.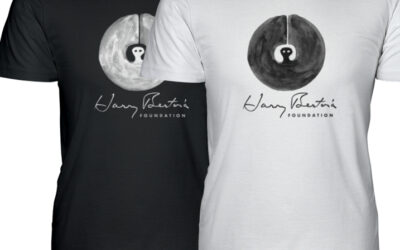 Bertoia Gong T-Shirt – $20
Sizes S,M,L (black only in M)
Show your love for all things Bertoia with this graphic tee from the Harry Bertoia Foundation! Soft, mid-weight cotton in black or white. The gong featured on this design is an original Harry Bertoia from the collection of the Foundation. Click below for more details…
More Item Details
The original Harry Bertoia gong used for this T-shirt design was made in the 1970s of silicon bronze in a single slab, 60″ diameter. The split makes for a different kind of sound; a deep resonant tone.
Did you know? Harry made his own mallets and called them clappers, probably because of his childhood memories of the clapper in the local San Lorenzo chapel bell.
5.3 oz 100% preshrunk cotton. Sizes are unisex, standard-fit.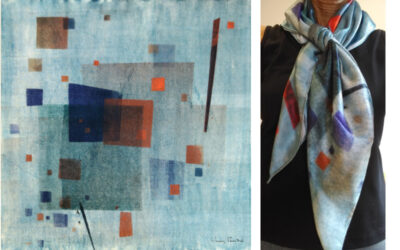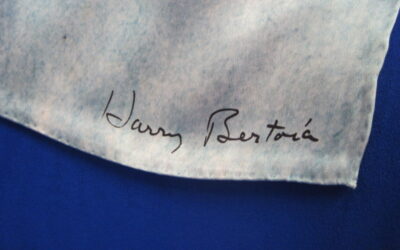 Harry Bertoia Blue Monotype Silk Scarf – $100
100% Silk charmeuse, 16mm
The original art is square, so this is an exact custom printing of the monotype in a slightly larger size. It was created with rollers and blocks on rice paper. Harry, during his life, had talked about having some of his monotypes made into tapestries or some kind of fabric creation. We have brought his dream to life in the form of silk scarves. This is a design from the 1940s.
The medium weight silk is appropriate for any season. Custom printed silk charmeuse 16mm scarf, 36" x 36", hand rolled hand stitched hem, includes individual plastic bag and tissue paper.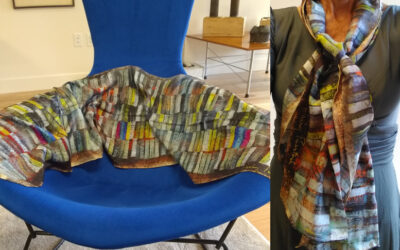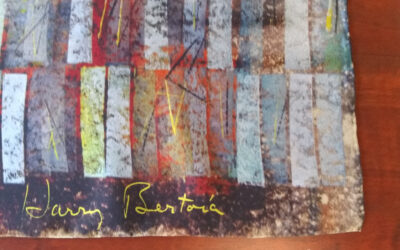 Harry Bertoia Pink Monotype Silk Scarf – $90
100% Silk habotai, 8mm
The original art was created during the Cranbrook era, circa 1940, with rectangular wooden blocks used to press the ink onto the rice paper. Harry had once mentioned transferring his designs to a tapestry or other fabric, so we have brought his dream to life. The monotype for this scarf was lengthened two and a half times. The pink color is very rare and visible only on a handful of the thousands of monotype designs.
This is a lighter weight silk perfect for adding a touch of color. Custom printed silk charmeuse 8mm scarf, 60" x 14", hand rolled hand stitched hem, includes individual plastic bag and tissue paper.
[vc_images_carousel images="12565,12566,12567,12568″ img_size="medium"]
SALE: Bertoia: The Metal Worker – $60.00
A celebration of the rich and varied work of Italian-born American artist, designer, and master of metal, Harry Bertoia.
From chapel altarpieces and bronze fountains, to wire chairs and silver brooches, Harry Bertoia's creative output was varied in the extreme. This book explores all aspects of the artist's incredible creative output, from his jewelry and iconic furniture to his monoprints, architectural sculptures, and "sonambients" – clusters of metal rods that ring with hauntingly beautiful sound. It also includes previously unpublished material of Bertoia and his works.
Bertoia also explores his life story: his move from Italy to Detroit at 15; his formative years at Cranbrook; his work with Charles Eames and Knoll; through to his fascinating sound sculptures. In doing so, the book demonstrates how seemingly disparate works are in fact united in being reflections of nature, and places Bertoia's art squarely at the heart of American modernism.
More Item Details
Format: Hardback
Size: 290 x 214 mm (11 3/8 x 8 3/8 in)
Pages: 280 pp
Illustrations: 230 illustrations
ISBN: 9780714878072
Jeffrey & Miriam Eger 1971 Film – $100
Sonambients; the Sound Sculpture of Harry Bertoia
Exclusive Documentary Set
Filmed in 1971 in the Sonambient Barn of Pennsylvania, this is a limited edition set (of 500) of a documentary of spectacular footage of Harry Bertoia playing and discussing the Sonambient collection. Anyone who owns a Sonambient sculpture will want to complement their piece with this snippet of history.
The exclusive limited edition (of 500) set includes:
16-minute documentary of Harry Bertoia performing in the Sonambient Barn (available for the first time since 1971)
20-minute interview of Harry Bertoia explaining Sonambient (never before released)
Full-length CD of all three Bertoia siblings – Harry, Oreste, Ave – performing in the Barn (exclusive)
A physical piece of the original 16 mm film
10-page booklet with color photographs of the shoot and description of the filming process (exclusive)
More Item Details
This limited edition CD / DVD set is available for the first time since the creation of the film in 1971. The 16-minute DVD documentary follows Harry Bertoia in performance through his Sonambient Barn (which was dismantled in 2016) in rural Pennsylvania. Also included is the full 20-minute interview with Bertoia speaking about the birth of Sonambient and his plans for its future. This interview is the only known recording of the artist fully explaining Sonambient.
The CD contains historic tapes selected specifically for this release including the earliest known recordings of the Bertoia brothers, Harry and Oreste, from 1969 as well as the recently discovered 1972 recordings of the Bertoia brothers performing while their sister Ave DePaoli sings in unison. All three siblings passed on years ago, and this was the last time that the three of them were together.
An actual piece of the original 16 mm is included in this limited edition for you to hold as a slice of history forever.
The set is packaged in a deluxe jacket with a 10-page booklet containing production stills from the film. Whether you own a Sonambient sculpture, or just wish you did, you can now have a slice of Harry Bertoia's world.
Shipping Information
Shipping:
US/Domestic shipping is included in the price.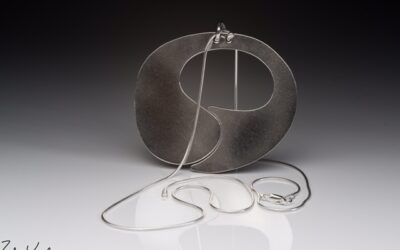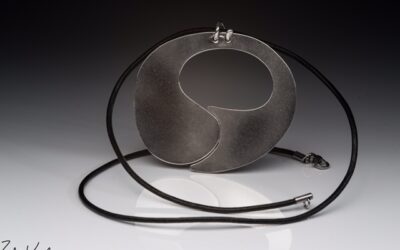 Harry Bertoia Snake Pendant – $400
Sterling silver, one size.
Limited edition (of 100) gong pendant reproductions by the Harry Bertoia Foundation.  The original is a  12" bronze gong, hand shaped by Harry at the shop. Choose between silver snake chain or black leather cord at checkout. Total weight of pendant and chain is 1.2 ounces of sterling silver. Pendant is 2.5 x 2.12 inches.
More Item Details
The gong style pendants are rare and resemble the huge sounding gongs that Harry created in his Sonambient phase of tonal sculpture.  The shape of the original bronze gong was replicated exactly, but the size was reduced to an aesthetically pleasing size for a woman's neck and the metal is sterling silver. The tooled attachment was added by our modern jeweler in the style of Bertoia.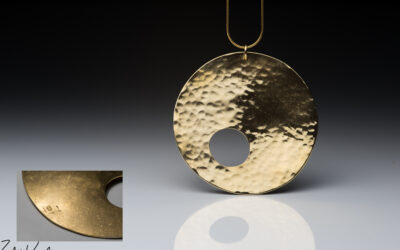 1977 Pendant: 18K Solid Gold – $6,000 OBO
Limited edition, solid 18K gold, one size.
Solid 18K gold, round gong pendant in a limited edition of 4, each piece numbered and initialed. This unique gong style pendant is 2.5" in diameter and weighs 1.6 ounces (with gold chain total weight 1.8 oz).
More Item Details
It was a rare late life creation that resembles the Sonambient gongs and was a prototype for a possible jewelry line of the 1970s that never materialized. Each one is slightly different due to hand tooling. Includes certificate and 20" gold snake chain.
Only one left in stock.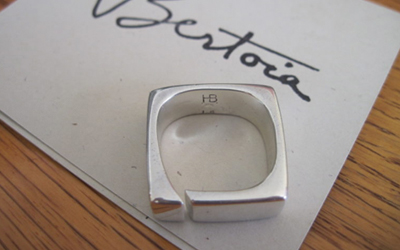 1942 Silver Ring – $250 – SOLD OUT
Sterling silver

Sterling silver reproduction of a Cranbrook era ring in a limited edition of 200, each piece numbered and initialed. This is a sleek comfortable ring with an angled slit.
More Item Details
This ring was probably a model for Harry's own wedding ring which was quite similar. The original, an aluminum size 13, is virtually identical to the replicas. Includes authentication card and description.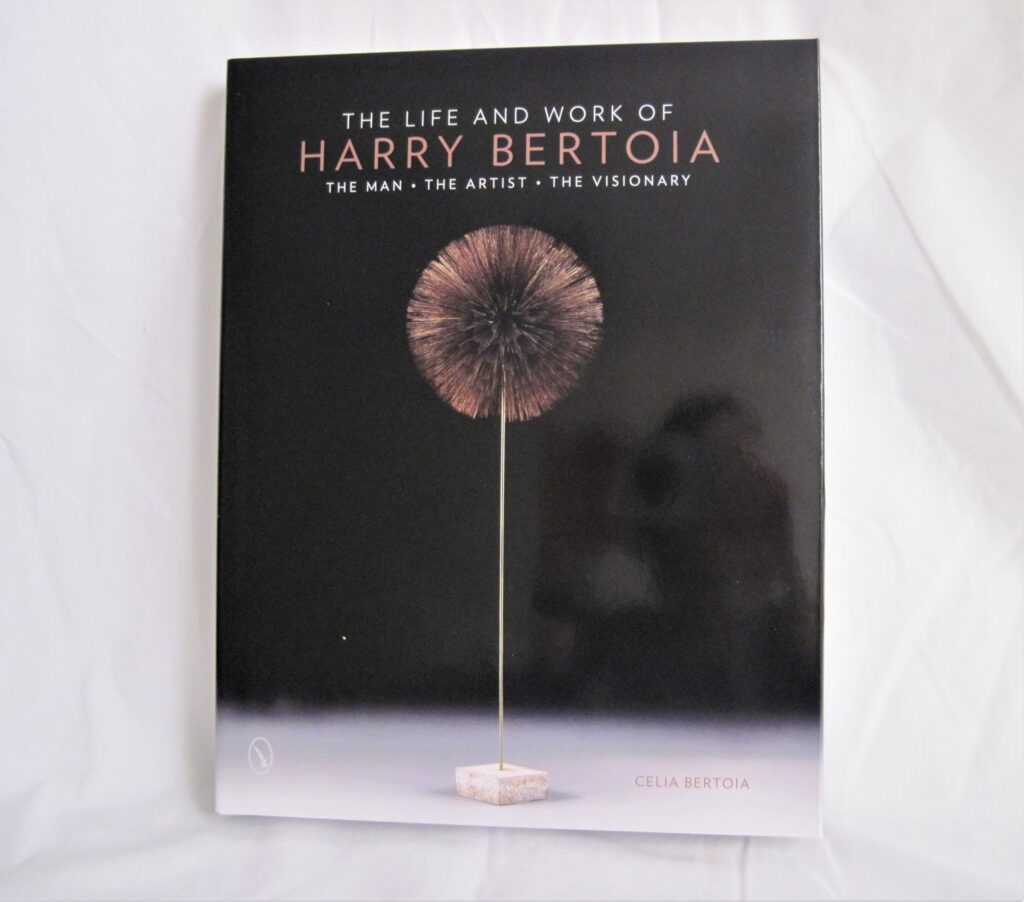 The Life and Work of Harry Bertoia: The Man, The Artist, The Visionary – $60
Personalized dedication & author autographed copy.
This important and beautiful volume, illustrated with over 200 photos, allows easy identification and appreciation of Bertoia's work. Written with insights that only a daughter could offer, readers will get a peek at behind-the-scenes skirmishes as well as technical details and life philosophy of the artist. Included author's signature, if desired. 11 1/4 x 8 3/4 inches.
More Item Details
If you'd like an autographed copy & personalization, please fill out the personalization box when ordering.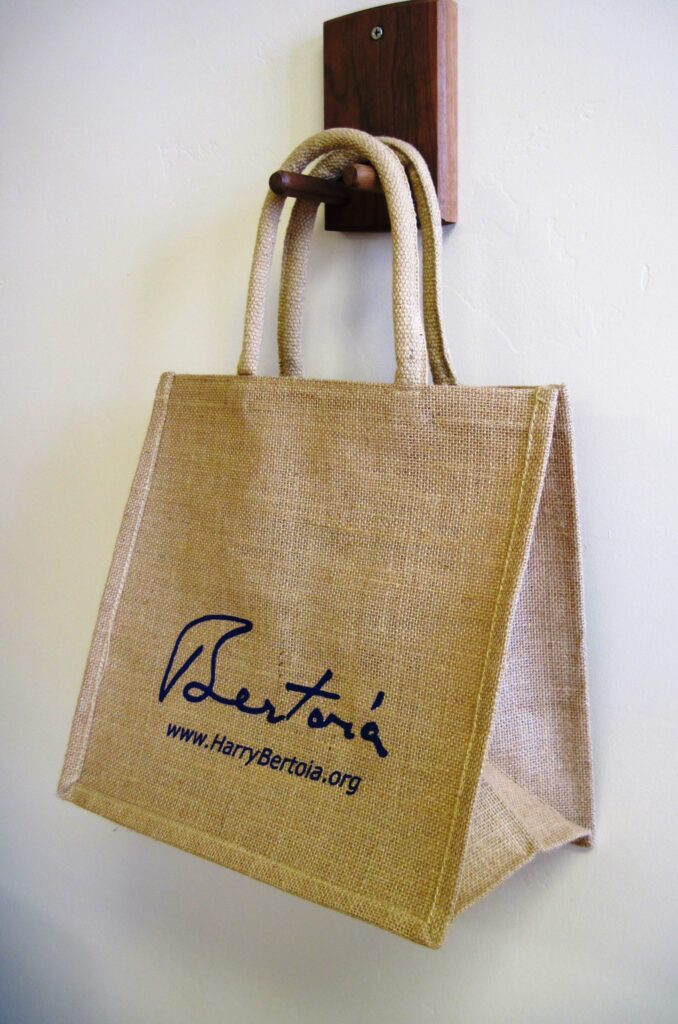 Bertoia Tote Bag – $20
Burlap tote, Size: 12″x12″x7.5″
Sturdy burlap tote with rope handles; Harry Bertoia signature across the front. Folds to flat or opens to 7.5" wide with firm bottom. Put over your shoulder or carry by the hand.
Shipping Information
Shipping:
US/Domestic is + $5 shipping.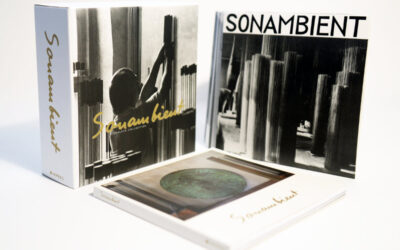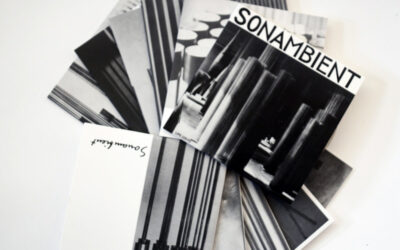 Original Sonambient Albums Box Set – $100
11 CD box set and booklet
This 11 CD box set is packaged in a heavy duty tip-on telescoping box and inlcudes all eleven Bertoia albums restored from the original master reels and packaged in replica jackets. Also included is a dense, detailed archival booklet containing extensive images, liner notes from David Harrington (Kronos Quartet), Celia Bertoia and Tom Welsh as well as excerpted letters of Harry Bertoia and a Bertoia interview conducted by the Smithsonian. Many of the archival images were collected from slides and have never before been published.
Shipping Information
Shipping:
US/Domestic is FREE shipping.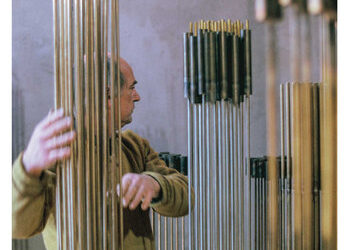 NEW SONAMBIENT ALBUMS
Experimental/Mechanical;  Clear Sounds/Perfetta;  New Year's Day – 1971
Important Records has partnered with the Harry Bertoia Foundation to re-launch the Sonambient label and produce new Sonambient albums from the original recordings of Harry Bertoia. Click here to order.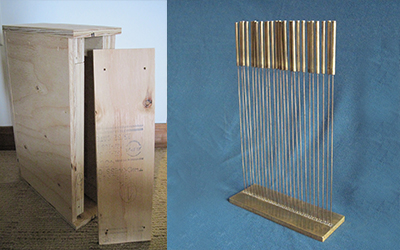 Table Tonal II – SOLD OUT
Dimensions: 12.5" tall, base is 2.6″ x 8″, arrives in wooden crate.
Limited edition (of 100) reproduction table-sized tonal sculpture, each piece labeled, numbered and dated, with brass base, beryllium copper rods, and brass cattails.
This is your chance to own an exact replica of an original Harry Bertoia Sonambient sculpture with 25 rods in a single row. This is the second limited edition of 100 tonal sculptures, authorized by the Harry Bertoia Foundation, which fulfills Harry's wish that many people could enjoy his work.
The cattail tops vary slightly in length just like the original, and refuse to stay in a straight line similar to grasses in nature. The original sits in the office of the Harry Bertoia Foundation.
More Item Details
The base is 2.6" x 8" and the sculpture is 12.5" tall and the tone is quintessential Bertoia. You will receive your tonal in a wooden crate, along with a certificate and a short Sonambient history.
Video Credits:
– Romeo Peeters, post production editor
– Harry Bertoia Foundation, all rights reserved
Shipping Information
Shipping:
US/Domestic – shipping included in price.
International is + $250 shipping.