In Honor of Florence Knoll
Celia Bertoia
March 2019
Harry Bertoia Foundation
Florence, better known as Shu, who passed on January 25th at age 101, and my father, Harry Bertoia, were great friends. They worked closely together on the modern Bertoia chairs that ultimately came out in 1952.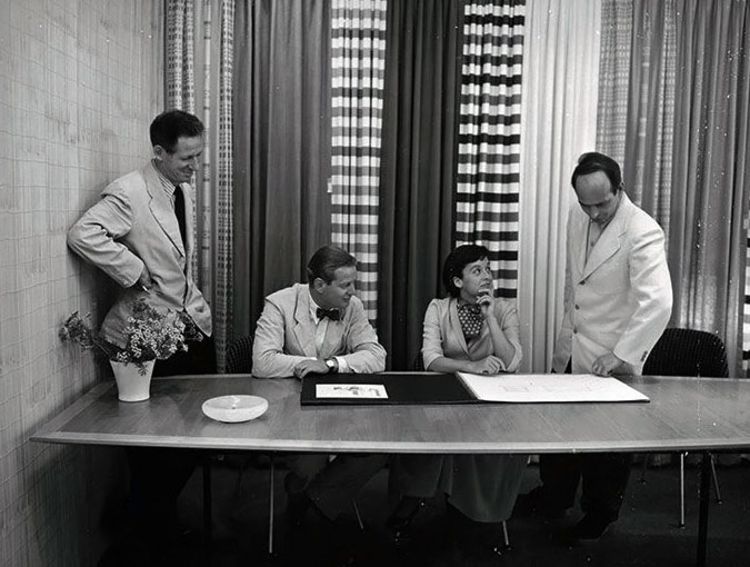 During the challenging development process of the chair series, Shu could be heard mumbling things like, "these chairs are costing us too much money; maybe we should drop the whole project." But eventually the manufacturing procedure was smoothed out and the "Bertoia collection for Knoll" became one of the best sellers. The series of bird chair, side chair, Diamond chair, wide Diamond, and slat bench have been in continuous production since the 1950s.
In continuous production since the 1950s
Harry and Shu, once the chairs were finished, did not see each other often.
They were not the kind of friends who sent birthday cards or phoned regularly, but both held the other in high regard.
Then Hans died in 1955 removing the pleasure of Harry and Brigitta getting together with Hans and Florence, making time together even more scarce. But when Florence informed Harry of her wedding to Harry Hood Bassett in 1958, Harry sent a six foot dandelion as a wedding gift, which signified the substance of their relationship. In 1959, Shu left Knoll for good, but left her mark on design forever.
While I don't remember meeting Florence Knoll (I was an infant if I ever did meet her), she affected my life in a profound way, although I didn't know it until years later.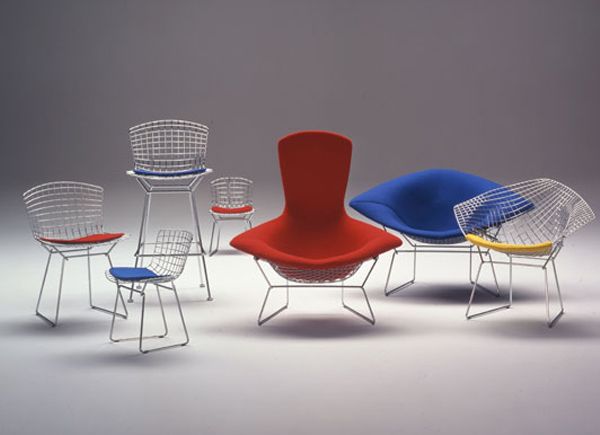 Her invitation for Harry and Brigitta to join Knoll in Pennsylvania determined where my family lived for the remainder of my parents' lives. It ultimately gave Harry a lump sum settlement which allowed him to buy our rented farmhouse, and carry Harry financially until he established his sculpture practice. It provided a happy healthy childhood for me and my siblings.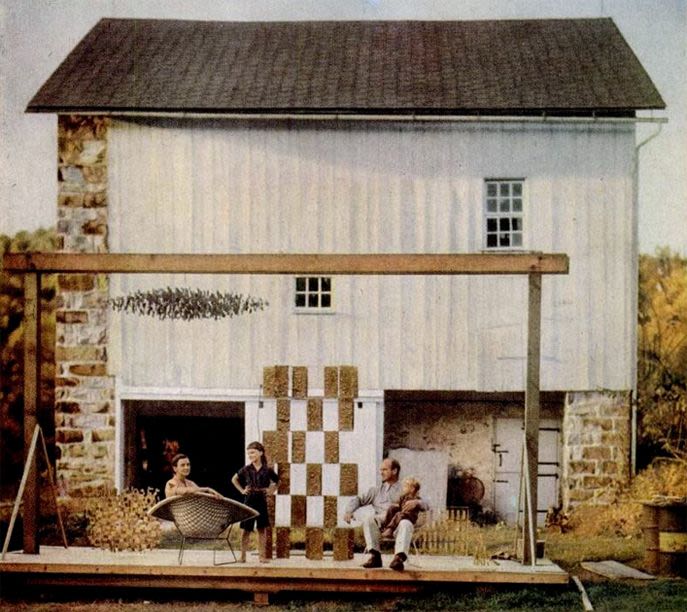 I am grateful for her insight in choosing Harry as a chair designer. I think Knoll is quite appreciative as well, having gained renown and profit from the Bertoia designs.
Shu curated her own last exhibition, a marvel of the design world, (perhaps she intuited it was her last) in 2004 at the Philadelphia Museum of Art.
I had a chance to speak with one of the underlings of that show who expressed the greatest awe, even fear, of Shu and her direction. She left nothing to chance and sketched out each element. At age 87, she commanded every detail, perfected each display and picked flattering textiles. She flew from Florida to Philadelphia numerous times to make sure all publications and presentations were perfect. And yet she did not bother coming to the opening. As the Knoll site relays, "She was not interested in public performance of that sort," said Ms. Hiesinger, the curator of the exhibition.
Shu was an inspirational figure in all regards. If any one of us could leave a fraction of the impact of her accomplishments, developments, and ideas that She left, we should be proud.
May you rest in peace, Shu.