Bertoia's Birthday and the Influence of Altamira
Happy Birthday, Harry!
(c) Harry Bertoia Foundation, 2020
n, 2020
Harry's Tales of Spain
Harry Bertoia was born on March 10, 1915 in San Lorenzo, Friuli, Italy. Happy Birthday, Daddy! We were a pretty normal American family in terms of celebrating birthdays. All family members got cakes, cards, gifts and the usual attention. For our parents, the party often became a meal with friends at a local restaurant. Harry usually had a steak, medium rare, and either some good Chianti or a cold beer depending on the season. We were privy to wonderful stories at these dinners and here's one I remember. With each re-telling the story became more dramatic and the details changed to suit.
In the mid 1960's, Harry was invited to Spain to a gallery friend's home. George Staempfli had been pestering him to visit his vacation home for years so finally Harry succumbed. While there, Harry rented a car to see a bit of the country. He found his favorite sports car at the rental agency, a Fiat Spider. In hopped Harry and off he went, carousing across the countryside of Spain. Before he had thoroughly checked out the auto, he was driving in the Pyrenees and suddenly found himself entering a dark tunnel.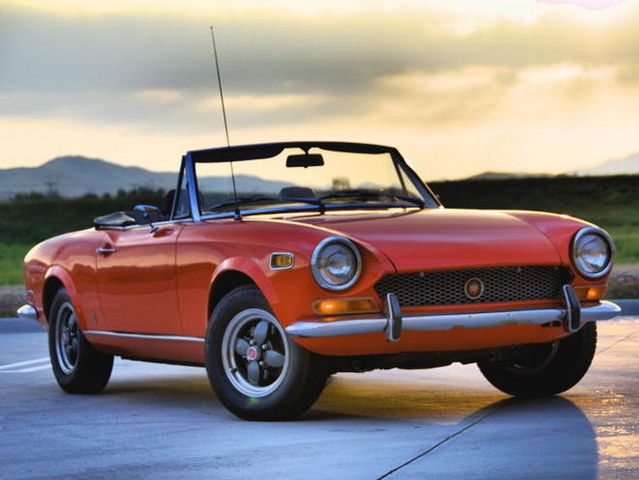 Where are the headlights???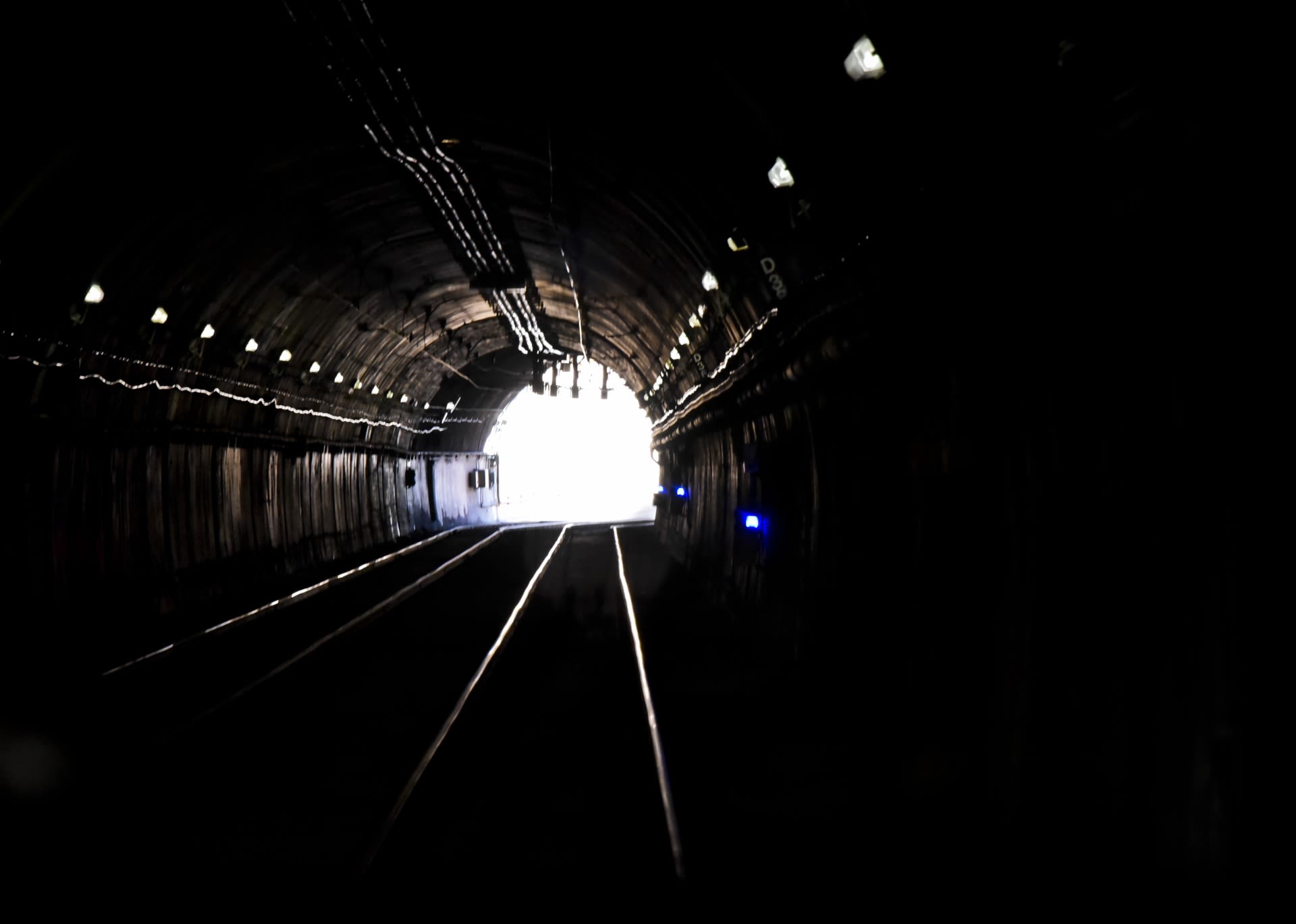 Harry had no idea where the knob for the lights was and briefly grappled around the dashboard unsuccessfully. By this time he was well into the tunnel with no light in sight. Luckily the top was down and he could sort of tell how close he was to the walls by the rushing air sounds. He chose to keep his speed steady, continue carefully listening, and pray for the best. By paying strict attention, he stayed straight on. Soon the literal "light at the end of the tunnel" appeared and he was able to safely make his way to daylight once again. Whew! Nothing like driving through a pitch black tunnel at 60 mph!
Ancient Altamira Cave in Spain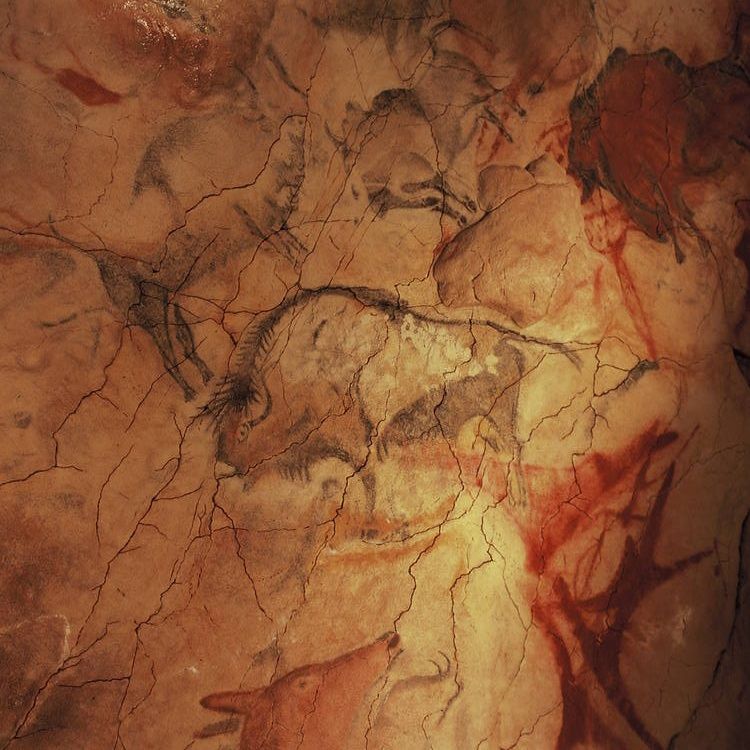 "These cave drawings are magnificent…"
One of his stops was the famed Altamira caves of northern Spain. The cave drawings and paintings are supposedly from the Paleolithic era about 36,000 years ago. The prehistoric art is beautiful in its simplicity, impactful in its elegance. Harry, always one to practice total presence, took in the cave art, was quite impressed and remembered it in his mind's eye. He later commented something like, "These cave drawings are as magnificent as any modern art today. With their basic natural paints and simple hand tools they expressed their world perfectly. Wonderful!" Harry was lucky enough to see the original authentic caves, which were later closed to preserve the paintings. A replica cave was later constructed for public visitation.
The below monotype, which I originally thought must have been an early school project (before I heard the Altamira story), is clearly influenced by the cave paintings. Especially note the eye and the tail. Uncanny, isn't it? While not an exact copy, it surely has the same energetic feel and simple strong lines of the Paleolithic art. He had not taken any photos – it was from memory and feeling that he did this monotype. Harry rarely did figurative drawing, so this (and a small series made at the same time) is quite unusual and special.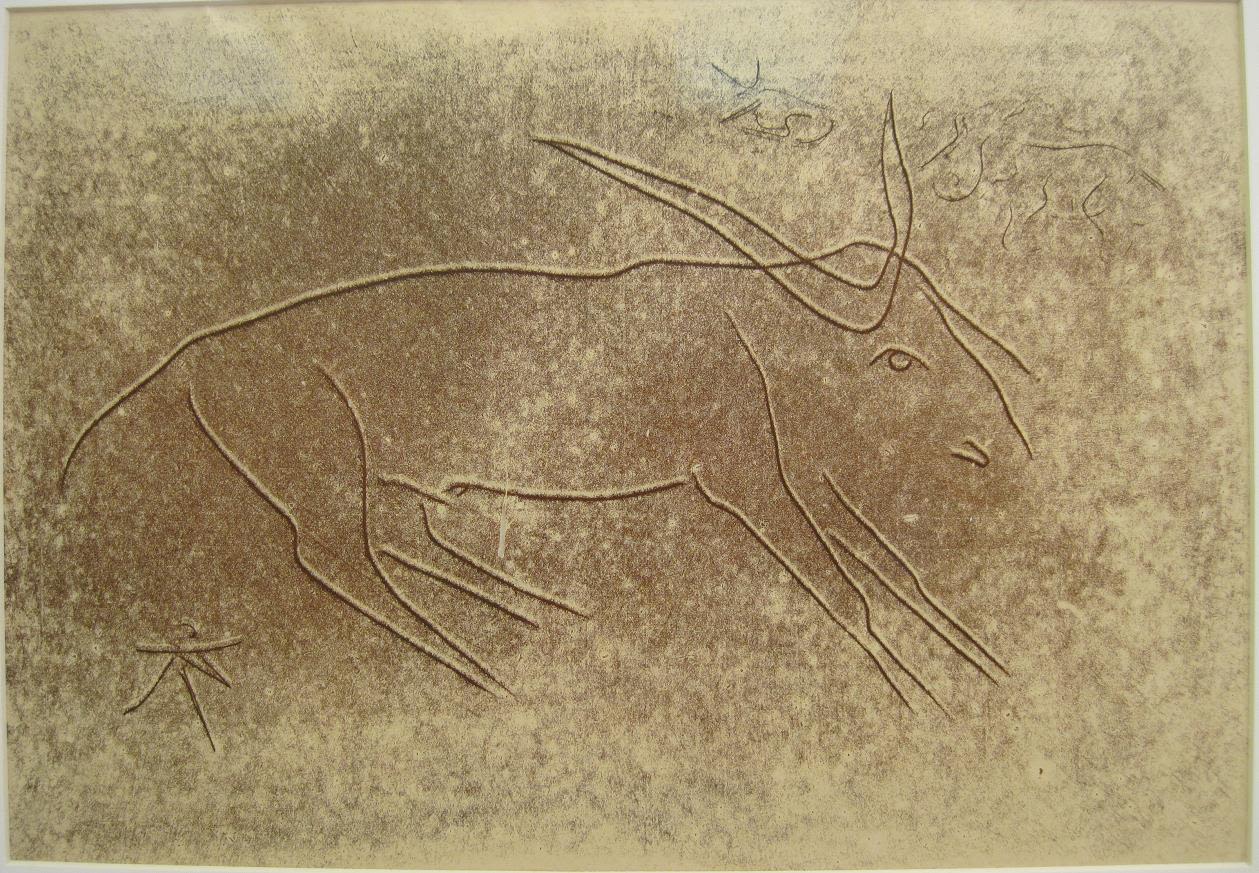 Perhaps we can learn from both Harry's calm demeanor in an emergency and his clear mindfulness in experiencing art!